Hotel with a large conference hall in Kiev
Conference hall of hotel - "West Park Hotel" - a reasonable choice for various events. We are happy to provide services for renting a modern and spacious conference hall equipped with everything you need to conduct: presentations, seminars, trainings, business meetings and negotiations at the highest level. The design of the room allows you to accommodate 50 people, with the possibility of different options for arranging furniture specifically for each event. Guests have access to multimedia equipment rental, coffee breaks and multi-channel free Internet access. Individual approach and impeccable service provided by our hotel in Kiev, are a guarantee of quality in the organization and conduct of any event.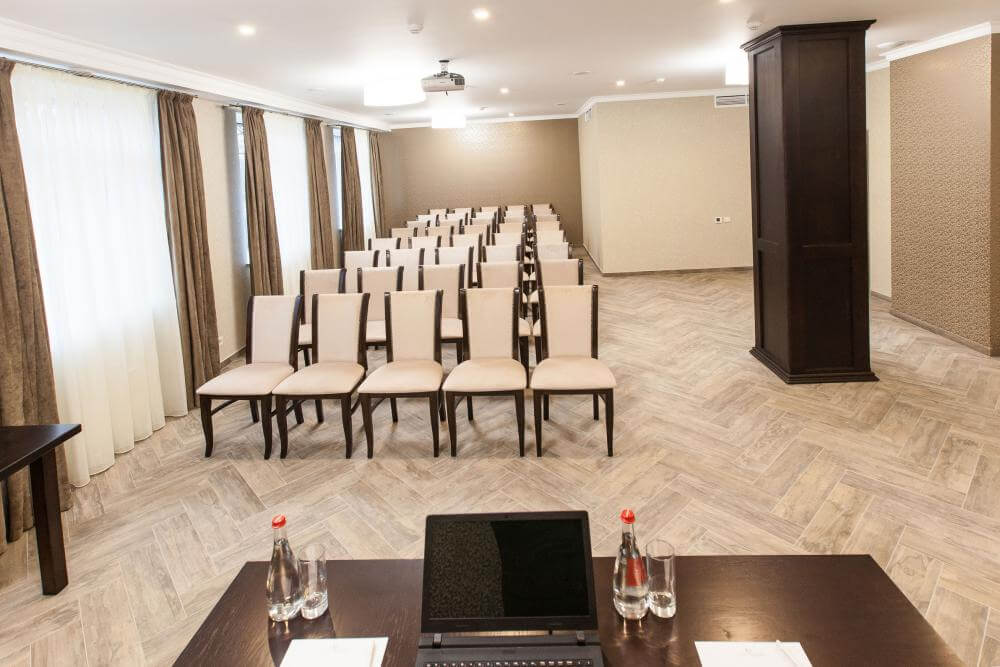 Rent of a conference hall in Kiev
The hotel is called the accommodation facility, which consists of a certain number of rooms. Hotels are very different, and their price can vary greatly depending on the amenities and services offered. In Kiev, there are a huge number of hotels that offer one star accommodation at an inexpensive price. As a rule, people usually book these rooms for rent.
Conference room price in Kiev
The price for different rooms even in the same hotel varies. There are some points on which the price of a room is dependent. If the hotel offers your room a lot of services, then the price for your room will be much more expensive. In hotels there are rooms in which the service of breakfast, lunch and dinner is offered. Design and decoration of the room - this is another factor that affects the cost of your room. If your room is roomier and more comfortable compared to other rooms, then the price for your room will be much higher. Do not forget that the important factor that plays a big role in the pricing policy of the room is its capacity. The larger the area of ​​the room, the more will be the price for the removal of the number. Now near Kievexpoplaza there are many hotels with conference rooms and this service is offered by three-star hotels. The service of the conference room in such hotels is offered completely free of charge. But if you are in a two-star hotel, then you have the opportunity to rent a conference hall for a while. Near the airports of Kiev there are also hotels and hotels that you can book before flying to Kiev and after boarding the plane you can directly get to your previously booked room.
The cost of renting a conference hall in Kiev
Today in Kiev there is a huge number of hotels, and many people are wondering which hotel I choose. It is worth considering that before choosing a hotel you need to decide how much time you will book a room. There are various numbers that can be booked hourly, daily, weekly and monthly. If you book a room hourly or daily, it will cost you much more. Many tourists who come to Kiev, should book their room weekly, because with this type of booking, the price for the room will cost them a little cheaper and it will cost tourists much more profitable. Another point to consider before choosing a hotel is what you will expect from the hotel. There are hotels that offer breakfast and dinner for a certain amount of money, but there are hotels in which such a service is not offered. If you want to save money, then it's best to refuse food services, as eating in a cafe and dining room will cost you a little more profitable.
Cheap conference halls in Kiev
Now in the world there are approximately 30-35 classifications of hotels. Such hotels vary greatly in terms of convenience and quality of service. More common is the notion of a star. This is a system for determining the quality and comfort of the hotel. The more the number of stars of the hotel, the better its service and convenience in the room. One star hotel is the lowest level of the hotel. It has a toilet, a bathroom, and a bedroom. This hotel does not offer you a large number of services, and when booking such a room you will not be offered a meal service. But thanks to all this you will save money and can spend the remaining money for meals in the dining room or cafe. A two-star hotel is the golden mean that many people acquire.
Contemporary conference hall Kiev
When booking such a room in the hotel you will be offered a breakfast service and at the desire of lunch and even dinner. The three-star hotel is a hotel in which you will feel much more comfortable. In this hotel you will be offered many services that are not available in a two star hotel. You will be offered a meal service and besides this in such hotel there will necessarily be a sauna, a gym and a large conference hall. At the same time you will feel at this hotel as comfortable and cozy. Thanks to the fact that this hotel even offers a massage therapist, you will relax as much as possible and have a good weekend.
In our catalog you can choose from beautiful Kiev hotels with conference rooms at an affordable price. The original banquet halls are designed to organize any event, they can accommodate many people.
Thanks to its convenient location and multifunctionality, the exquisite conference rooms have become an excellent choice for seminars, meetings, congresses, forums.
Conference hall services in Kiev
Conference halls in Kiev are cozy and comfortable, the cost is low. The main hall of the hotel is a large, well-lit room, which can accommodate a large number of employees.
The interior design of the hall is made in modern classical style. If you want to hold several events together, then the hall can be divided into several parts, while using partitions.
Order a conference room in Kiev
Elegant banquet halls
Spacious and elegant rooms are perfect for holding formal and informal events. Renting a conference hall in Kiev is inexpensive. Thanks to the presence of a stage, lighting equipment and festive decoration, the hall easily turns from business into solemn.
Organization of a conference hall in Kiev
Exquisite halls are ideal for presentations, for corporate events, cocktails. On our website, the cost of the conference hall is announced at the conclusion of the lease contract. Included in the price:
rent of premises;
operation of equipment;
internet connection.
In addition to the conference services, the hotel organizes transport and excursion services for clients.
The cost of renting a conference hall depends on how long the premises were rented. Business-class hotels are located in an actively developing area, decorated in a trendy style.
Cozy conference hall for business meetings in Kiev
Conference halls at the hotel Kiev are the best place for organizing, holding various corporate events.
A team of professionals will help you to hold a business event at a high level. Thanks to the availability of modern equipment and exquisite interior, the rent of a conference hall is very popular.
In the hall, you can arrange a show or a show for your colleagues, in an informal atmosphere to discuss all business matters.
Hotels with conference rooms in Kiev are offered at low prices in our directory. Here you can rent a room for a small breakfast before a major conference. Here you can book a hotel for various business meetings.
Renting a conference hall at the hotel is the best solution for business negotiations of business colleagues and business partners. We offer our customers delicious menus, cozy rooms with a pleasant atmosphere. We guarantee impeccable service, reliability and favorable conditions for you.
Rent a conference room cheap Kiev
Hotels with large conference rooms are an ideal option for any major event of the company. When you book a hotel you can take advantage of discounts. Luxury rooms, economy and business class are offered for rent inexpensively.
Much depends on your preferences and capabilities. Here you can find comfortable and comfortable training halls, congress and conference halls in a wide variety.
Conference room in the hotel Kiev is offered at an affordable price. Contacting our company, you can choose the right option for you. Here you will find a room with an original design that can accommodate a large number of people.
For the organization of the conference, a beautiful hall with new equipment for the projection of video and audio broadcasting is suitable. We will help organize your event at the highest level. The catalog presents luxury hotels in Kiev with conference rooms, the price is low.